Frequently Asked Questions
The following are a few of the frequently asked questions about our products and their materials. If you do not see something here that answers your question please feel free to give us a call at
1-800-368-8311
and our friendly sales representatives can answer your questions.
Common Questions
What is a roll ticket?

A typical
roll ticket
is a 1x2" numbered piece of paper attached to other similar pieces of paper rolled up onto a cardboard core. Tickets are usually sequentially numbered within the roll and may contain a graphic either in black or colored print on white or colored paper stocks. Roll tickets have been used in everything from carnivals to large film events, and are a great way to distribute vouchers, admissions, or food credits.
Standard roll ticket sizes
Roll tickets come in a variet of shapes and sizes. While it would be almost impossible to list them all (and it would take your computer a very long time to load this page) there are a few standard sizes that most companies offer.

Standard
tickets measure 1x2" and are numbered on both ends.
Redemption
tickets are slightly larger at 1.1875x2" but are numbered on only one end.
Coupon
tickets are perforated down the middle to make a two part ticket with two sets of matching numbers on one end.
Billboard
tickets are a square 2x2" ticket with more room for artwork or logos with a serial number at the top.
Marquee
tickets are two billboard tickets attached side by side with matching serial numbers at the top.
What are Strip Tickets?

Strip tickets
are similar to roll tickets. Instead of rolled up on a cardboard core, strip tickets are packaged in strips of 5 either loose or booked. Numbering is typically sequential along the strip and throughout the stack. They can be printed in full color on bright white stock or black print on bright colored stocks.
What are Sheet Tickets?

Sheet tickets
are similiar to standard roll tickets in size (1x2") but consist of multiple tickets on a "sheet." Tickets are usually numbered sequentially on the sheet throughout the stack
(ex. "sheet 1" would have tickets 1-20 on a sheet of 20 with 50 sheets to a stack).
Paper Stocks
Custom Strip Tickets
, sheet tickets, valet tickets, coat checktickets and most other printed products are produced on various paper stocks. The two most common are
colored
and
white
.

Colored Paper Stock
is typically 65lb. paperweight and similar to the reply card found in magazines for subscription renewals. Colored paper stock has bright colors which show off black print particularly well but colored print may be difficult to read.
White Paper Stock
is offerend in several different weights and finishes. We offer 80lb. coated cover stock, 100lb. cover stock, and 65lb. bright white card stock (again similar to magazine reply cards).
Paper Weight
Paper comes in various weights and sizes. Below is a reference chart you can use to convert various paper weight measurements from one form to another.
EQUIVALENT WEIGHT
PAPER WEIGHT CHART
The values in the table below are intended to serve as a guide only. They should not be used as specifications because there are variances within the same basis weight due to other characteristics of the papers. Similar weight papers may vary between different paper manufacturers.

BOND
LEDGER
OFFSET
TEXT
COVER
TAG
INDEX
POINTS
CALIPER
MILLIMETERS
METRIC
(grams/sq meter)
16
40
22
37
33
3.2
.0032
.081
60.2

gsm

18
45
24
41
37
3.6
.0036
.092
67.72

gsm

20
50
28
46
42
3.8
.0038
.097
75.2

gsm

24
60
33
56
50
4.8
.0048
.12
90.3

gsm

28
70
39
64
58
5.8
.0058
.147
105.35

gsm

29
73
40
62
60
6
.0060
.152
109.11

gsm

31
81
45
73
66
6.1
.0061
.155
116.63

gsm

35
90
48
80
74
6.2
.0062
.157
131.68

gsm

36
90
50
82
75
6.8
.0068
.173
135.45

gsm

39
100
54
90
81
7.2
.0072
.183
146.73

gsm

40
100
56
93
83
7.3
.0073
.185
150.5

gsm

43
110
60
100
90
7.4
.0074
.188
161.78

gsm

44
110
61
102
92
7.6
.0076
.193
165.55

gsm

47
120
65
108
97
9
.0078
.198
176.83

gsm

53
135
74
122
110
9
.0085
.216
199.41

gsm

54
137
75
125
113
9
.009
.229
203.17

gsm

58
146
80
134
120
9.5
.0092
.234
218.22

gsm

65
165
90
150
135
10
.0095
.241
244.56

gsm

67
170
93
156
140
10.5
.010
.25
252.08

gsm

72
183
100
166
150
11
.011
.289
270.9

gsm

76
192
105
175
158
13
.013
.33
285.95

gsm

82
208
114
189
170
14
.014
.356
308.52

gsm

87
220
120
200
180
15
.015
.38
312

gsm

105
267
146
244
220
18
.0175
.445
385.06

gsm
(Boxes highlighted in yellow represent the most common paper weights for that category)

Dowload a pdf version of this paper weight chart
What are Coat Check Tickets?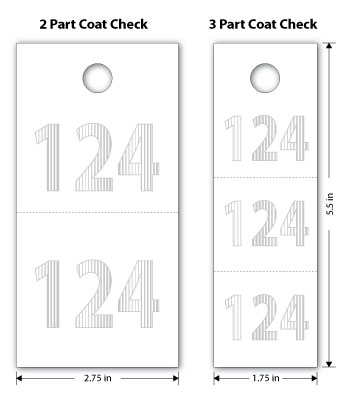 Coat Check Tickets
are typically 2 or 3 part tickets with matching numbers on both or all pieces, have a hole at the top to attach to a coat hanger, and perforations for easy separation. They are used in coat check rooms for the easy tracking and organization of a large amount of guest coats. The top portion of the ticket is attached to the coat hanger and the bottom portion (usually containing the disclaimer, ticket number and company or venue logo) is given to the guest. The bottom portion is later turned back into the coat check room so their coat can be retrieved at the end of their visit.
What are Booked/Padded Tickets?

Padded (or booked) tickets are held together by a strong but flexible padding compount similar to Elmer's Glue. Tickets are usually grouped together in amounts ranging from 100 to 1000 and glued along one side. This allows the stack to stay together for easy transport and allows for quick distribution of tickets.
What are Barcodes?
Us-Ticket is able to print all widely used variations of 1D and 2D barcodes. 1D or 1 dimensional barcodes are recognized easily by their vertical of lines. Scanning any cross section of the full width allows for easy reading of these barcodes. They are able to encode letters, numbers and various special characters depending on the type of code. Most ticketing systems tend to use Code 39 (also known as barcode 3 of 9) or Code128. If you are unsure send us a picture or scan and we can help identify.
2D or 2 Dimensional barcodes encode data using complex patterns organized on both a vertical and horizontal axis. These are typically recognized by their tiny square or rectangle shapes organized in strange patterns.The most common 2D barcodes are QR codes, PDF 417, AZTEC and datamatrix.
Whatever your barcode printing needs are, we can help. We have years of experience encoding and printing variable data to barcodes for a wide varitey of uses and industries.
What are QR Codes?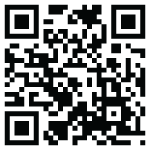 The
Quick Response Code
(known more commonly as a
QR Code
) is a type of two-dimensional matrix barcode originally designed for the auto industry in Japan. It has become popular in other industries over the past years as an easy way of storing large amounts of information which can be quickly read by any modern smart phone with a camera and a free QR scanning application.
How it works:
QR Codes differ from regular barcodes in that they require a device with a camera rather than a narrow beam of light. The "scanning" device takes a picture of the image and then analyzes different points within the code to determine its orientation, how much and what type of data are in the image and any error correction that needs to be done due to the image being damaged (a certain portion of a QR code can be missing or damaged and still scan properly, making them fairly resilent).
(Image Source: Wikipedia Commons)
Once scanned the QR code can provide various information including numbers, websites and short text messages. Various companies use QR codes on their valet tickets as a way to easily allow their customer to alert valet attendants that their car has been requested for pickup. Simply scan the ticket with your phone and it will open a text message to the correct phone number with your valet ticket number. Press "send" and the valet company will retrieve your car in a timely manner.
(Please note that the methods of each valet company may differ as will your experiences with them.)
What are String Tags?

String tags are flexable pieces of nylon strung through a .25" hole and knotted at one end. They are most commonly found on luggage and baggage claims, certain coat check tickets or item checks. They can be made in a variety of different lengths and colors.
What are Reinforced holes?
Us-Ticket has a number of product offerings that include punched holes for strings, coat hangers, key rings and other uses that require a ticket to be attached to another item. Sometimes it is necessary or beneficialto reinforce the hole punch area with a thin plastic film. The added integrity prevents tear-out of the hole. The reinforcment film is a clear mylar plastic that is only about .001" (1 mil). Call or email us to findout more about reinforced ticket holes.
What are Window Cling Decals?

Window cling decals are printed on bright pearlescent background and affix to the window of your car with a static cling, allowing them to be removed and repositioned on the same or different cars. Each full-color polyester decal is printed on UV stable, 2 layer high temp material that will resist fading for up to three years on a windshield. Variable numbers and barcodes/qr codes can be added to suit your parking operation. To apply the decal, simply peal it away from the backing and press firmly against the windshield, smoothing out any bubbles that appear.
What are Keytags?

Keytag parking permits are printed on teslin stock and then laminated to provide a 30mil thickness tag with a hole that can be used to attach them to a keyring. They are usually numbered and/or barcoded with the correct parking space or valet number and provide long-term parking for frequent customers or staff. Keytags are tear, scratch and separation resistant and can survive a few runs through the laundry or spills from various non-corrosive liquids. Sequential numbering, barcodes and qr codes are available to help you track your keytags as they move to and from your facility.