Custom Valet Tickets

Custom Valet Parking Tickets
US-Ticket provides a large selection of customization and finishing options so you get the exact valet tickets to best represent your company or venue. We work hard to make sure your tickets are designed in a way that makes them easy to use and understand. Still have questions about whether a valet ticket is right for you? Contact by email at sales@us-ticket.com or call 800-368-8311! Valet tickets may include (but are not limited to) the following customization options:
Full Color and Quality Paper Stock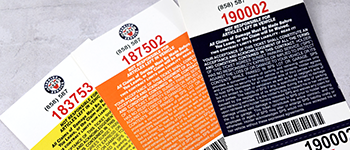 We are able to print beautifully vibrant full-color tickets. This is great for logos, advertisements, or even just making some text POP! We have options available for both single-sided and two-sided tickets with full color, as well as more economical black-only options. A multitude of paper stocks, weights, and colors are also available to further the potential customization of your valet tickets.
Plastic and Reusable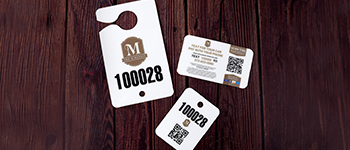 If you need something more sturdy or reusable we offer a 30 mil poly plastic option for any valet ticket or parking permit. We can cut any custom shape from zig zags to circles so that your ticket is just the way you need it. These tickets are durable and can be cleaned and reused.
Custom Variable Numbering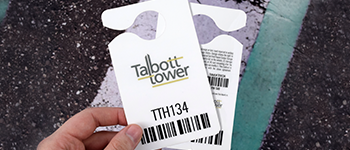 Custom variable numbering provides you with the freedom to use your current valet system along with our design and production. We can accommodate even the most complicated number/letter variable numbering. Special fonts or characters are no problem and we will gladly work to accommodate any pre-existing designs.
Barcodes and QR codes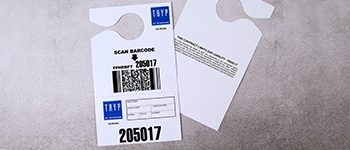 Barcodes and QR codes provide a great way for guests to quickly notify you for their departure. We already work with several different companies who have integrated QR codes into valet systems, providing a higher level of service and support for their customers. If your company uses anything like those services we can easily integrate it into your valet tickets.
Other Finishing Options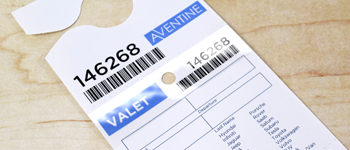 Hang tags, key holes, Mylar-reinforced taping, perforations, string tags, and more can be added to your tickets to give them the functionality you need with the professional appearance you deserve. Let us provide you with a clean-looking and functional ticket.
Custom Valet Ticket Samples
Why Choose US-Ticket?
Set yourself apart with eye-popping color and professional valet tickets. With US-Ticket, quick turnaround meets professional quality at an affordable price. Hand your customers more than just a claim ticket. Hand them something bright and bold that they will remember. Add coupons, advertising, upcoming event information, whatever you want!
Fast turnaround time
Proof the same day you make an order
Most orders ship in a little as 3-5 days
Better looking & functioning tickets
No color change fees, no minimums
Economy and premium options available
Shipment distribution available
Organized and secure lifetime job files
Any size order for any sized ticket
Custom Orders - Quoted and proofed in 24 hrs or less!
Contact our experienced sales staff by phone or email!

800-368-8311
or
sales@us-ticket.com
OR - Fill out the contact form below
More Custom Valet Ticket Samples