Custom Valet Parking Tickets
Put your name in the hands of thousands.
Set yourself apart with eye-popping color and professional looking valet checks. Nowhere else will you find the full color capabilities we have to offer. With US-TICKET quick turnaround meets professional quality at an affordable price. Add some color to those old washed out looking tickets and make a bold statement. Why use the same generic tickets as everybody else? Hand your customers more than just a claim ticket. Hand them something bright and bold that they will remember. Thousands of fonts and millions of colors offer limitless possibilities to the customization of your tickets. Add coupons, advertising, upcoming event information, what ever your want! Use your imagination!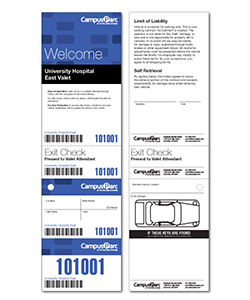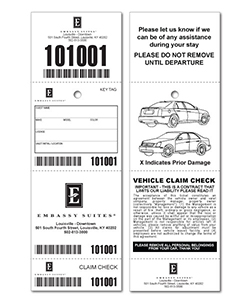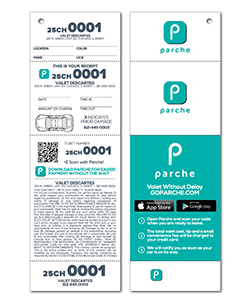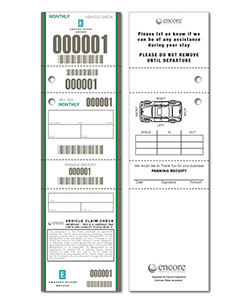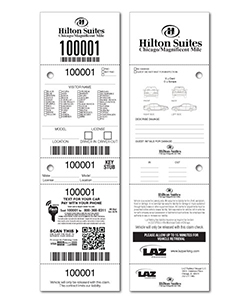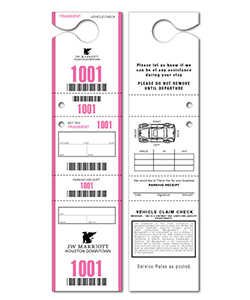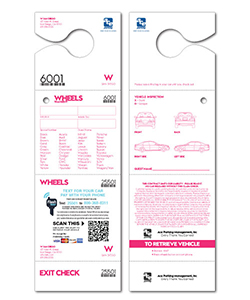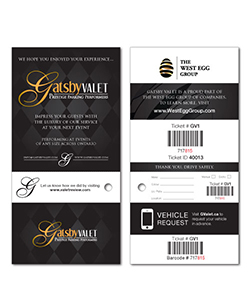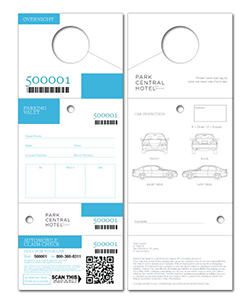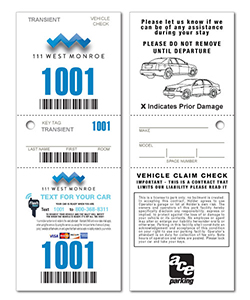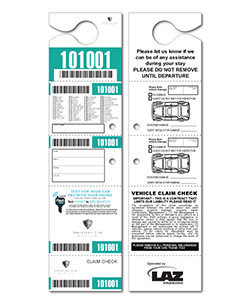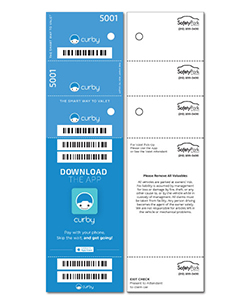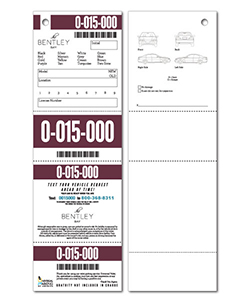 High Resolution, Full Color & Quality Paper Stock
Using you customized valet ticket as a direct marketing piece means you want nothing short of a proffesional looking product. Our full color & high resolution capabilities offer vivid colors and a glossy sheen that really stands out. A multitude of
paper stocks, weights, and colors
are also available to further the potential customization of your valet tags.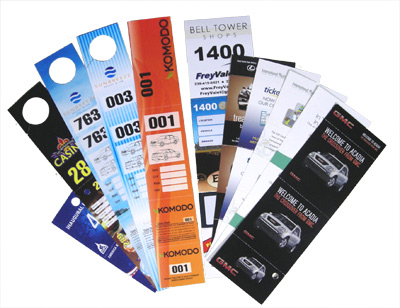 Large Amount of Customization and Finishing Options
US-TICKET.COM provides you with a large amount of customization and finishing options so you get the exact valet tickets to best represent your company or venue. We work hard to make sure your tickets are designed in an easy to understand and functional way to make using them as efficiently as possible. Valet tickets may include (but are not limited to) the following customization options.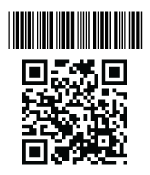 Custom variable numbering
provides you with the freedom to use your current valet system with our design and printing process. We can accomidate even the most complicated number/letter variable numbering to ensure your operation continues operating efficiently. Special fonts or characters are no problem and we will gladly work to accomidate your design.
Barcodes and QR codes
are a great way to speed up the handling of your guests vehicles and can provide a great way for them to quickly notify you for their departure. We work with several different companies who have integrated
QR codes
into valet systems and provided a higher level of service and support for their customers. If your company uses one of those services we can easily integrate it into your valet tickets.
Hang tags, key holes, perforations, string tags and more
can be added to your tickets to give them the functionality you need with the professional appearence you deserve. Let us provide you with a clean looking and functional ticket from which you can accomidate your guests.
Fastest Turnaround on Custom Tickets
We are the designer, producer, and shipper
meaning we turn jobs quick! Often times the need for a customized product comes with little notice. We at US-TICKET are able to work with turnaround times as little as 1-2 days on certain custom jobs. Don't think there is enough time? Give us a call! We can probably do it!
We offer endless possibilities with the customization of our valet ticket products.
Don't just settle for a drab ticket that has your name on a standardized layout everybody else has, jazz it up and add full color text, logos, and images. We have thousands of unique fonts available, and a full time graphics department to ensure quick turn around time with the design and delivery of your customized valet checks.
Unlimited valet ticket check sizes are available, and numerous paper stocks mean we have the ability to get you the product you need.
Setting up a custom Valet ticket for your growing business has never been easier! Custom valet tickets are also a great way for your company to promote themsleves and their business partners. Including advertising on your custom valet tickets puts your message in the hands of an elite demographic.
Ready to order?
Give us a call at
1-800-368-8311
and speak to one of our friendly sales representatives. Your order could be
3 Simple Steps
away from being on its way to your front door!